Heather Keller's UCB trained sketch group performed their 2nd Annual Benefit show for the LA Mission on December 13th, raising much needed money for Los Angeles's homeless. Her group "Hate Mail" performs at the indie branch of UCB called "The Clubhouse" every other Saturday at 7PM on Hillhurst in Los Feliz.
Their latest video sketch can be seen on "Funny or Die" here:
http://www.funnyordie.com/videos/0190a72e24/crossword-puzzle-brahs
Hate Mail has been scouted and picked up by the TV Show "Laughs" on FOX, LIVE at Upright Citizens Brigade and has a permanent home on the popular site "Funny or Die". To see some of their more infamous sketches click here: http://www.funnyordie.com/hate_mail
UPRIGHT CITIZENS BRIGADE SHOW JULY 23, 2014 AT 6:30PM 
To Buy Tickets Click Here: http://losangeles.ucbtheatre.com/performances/view/33824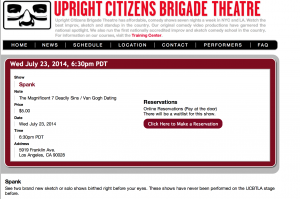 REVIEWS FOR CLASSIC COUPLES COUNSELING: 
Broadway World:
BWW Reviews: World Premiere Comedy CLASSIC COUPLES COUNSELING Examines Shakespeare's Famous Lovers
How often have you wished you could have stopped the tragedy that befalls lovers in Shakespeare's plays? Playwright and producer Lloyd J. Schwartz, along with director Ted Lange, lovingly give you a chance to get to know these magnificent characters in the world premiere comedyCLASSIC COUPLES COUNSELING now onstage at the Secret Rose Theatre in NoHo. Their vision juxtaposes modern counseling with the timeless issues facing Shakespeare's classic couples. While there is no iambic pentameter allowed in the doctor's office, they have tipped their hats to the rhythmic word form and decided to let the humor of the situations dictate the flow of the language and the characters interaction.The cast includes Anthony Gruppuso (MacBeth), Paul Gunning (Hamlet, James), Thomas Anthony Jones (Othello), Heather Keller (Desdemona), Anne Leyden (Kate), Barbara Mallory (Lady MacBeth), Constance Mellows (Patricia), Lindsey Ravage (Ophelia), Elliot Schwartz (Romeo), Bill Sehres (Petruchio) and Kimberly Woods (Juliet).The entire play takes place in the office of Dr. Patricia Cataldo (Constance Mellows), a psychotherapist with a few kinks of her own, which she all too freely shares with her clients to make them feel their problems are not that uncommon. And after assuring them she will not share their stories with anyone else, they all open up riotous humor erupts. Costume designer Michele Young dresses Ms. Mellows in a very modern business suit, and Ms. Mellows allows us to see the wild woman beneath all that.
Just as the good doctor is settling in, Hamlet and Ophelia (Paul Gunning and Lindsey Ravage) arrive for their first session. Seems the main problem between them, other than he killed her father (accidentally of course) is "Will I marry Ophelia or not marry Ophelia?" which pleases her not. Like all the actors in this production, Gunning and Ravage are perfectly cast and allow the audience to laugh with as well as at these classic characters. And you can't help but notice Gunning's stunning blue eyes that glimmer in the light as he speaks with the ghost of his father, as well as his total self-absorption which causes him to completely ignore what poor Ophelia has to say to the good doctor as well as throwing his used tissues anywhere he pleases. The doctor encourages both spend time alone and go to their imaginary "safe" place when the tension between them gets to be too much.
Next up we meet young teenagers Romeo and Juliet (Elliot Schwartz and Kimberly Woods), newly married and wondering how to tell their parents, especially since a recent fencing match caused deaths in both families now immersed in a bitter feud. During their session, the famous balcony scene is presented, or mocked if you will, with Juliet standing on the doctor's desk and Romeo knelling on the carpet below. These two young, hormone-ravaged teens must constantly be pulled apart by the good doctor, and much of the humor in the scene is fueled by sexual innuendo to roars of laughter from the audience. As they leave her office, Patricia counsels them to not do "anything rash" although she has already planted the seed of their downfall in Juliet's mind.We meet the lovely and faithful wife Desdemona (Heather Keller) as she waits for Othello (Thomas Anthony Jones) to arrive for their session. She is patient as she knows a Captain's schedule changes from moment to moment. And when the mighty Moor makes his entrance, the gorgeously handsome Jones will leave no doubt in your mind how Desdemona could go against the wishes of her father to marry him. 
But their problem, of course, is his overwhelming jealousy that she will go after every other man when he is off on his missions with the Italian Army. And Desdemona questions Iago's obsession with her husband and what goes on between them when he is away. Theirs is also a hot relationship that enflames his jealousy and the good doctor counsels them to only kiss for 10 days so that Othello can truly appreciate the faithful woman he married. But he only agrees after Desdemona promises him exceedingly nasty rewards if he can wait.
Kate and Petruchio (Anne Leyden and Bill Sehres) are the LOUD older couple, their arguments fueling the passion between them. Leyden displays Kate's shrewish ways to the hilt, and Sehres' Petruchio flirts shamelessly with the good doctor and later with Juliet, much to Kate's wrath, just as her constant lateness and grand entrances enrage him.
"Why can't it just be fun?" they ask. After their name-calling shouting match fuels their need to be together, they hurriedly leave the office. "Well at least," Dr. Cataldo reasons, "neither has killed anyone in each other's family."
MacBeth and Lady MacBeth (Anthony Gruppuso and Barbara Mallory) enter and demand that Dr. Cataldo bow down to them. After all, they are royalty. But this King of Scotland is merely the henpecked husband of his domineering wife who constantly leaves the room to wash her hands. "Perhaps she is an obsessive compulsive," counsels the good doctor to MacBeth during one of the Lady's bathroom breaks. But they have come for counseling because they want to be liked, then threaten to dismember anyone who still dislikes them.
They laugh at the fact she guided him scot-free to be the Scot King by killing off others on their way to the throne. "Murder is such a chore," he admits. But that does not stop MacBeth from pulling a knife on the doctor after she counsels them to find another therapist. Gruppuso and Mallory make a fabulous couple, each playing off each other's words and movements seamlessly as if they really are a long-married couple.
After their individual sessions, Dr. Cataldo has them all come in for a group session, which at first turns into an examination of the doctor! Yes she has problems in her relationships, but then who doesn't? Watching all these great character sin the same room, comparing themselves to each other, was one of the most humorous scenes I have seen in a long while. At least Kate realizes that compared to Lady MacBeth, "I'm not that bad!"
Inevitably, Dr. Cataldo's case load is reduced by attrition, and if you know any of Shakespeare's plays then you'll know how that happens. This play, however, allows that perhaps the instigator was the good doctor herself, who finds she again must get out of town quickly when her clients start dropping like flies. Not even a call from Caesar himself can keep her there, advising him to call her after March 15. Surely you catch the humor in that, as you will in many such Shakespearean nods throughout this clever comedy.
Whether you're a fan of Shakespeare or just want to enjoy a hilarious comedy, go see CLASSIC COUPLES COUNSELING because laughter, after all, is the best therapy.
World Premiere comedy CLASSIC COUPLES COUNSELING written by Lloyd J. Schwartz. Directed by Ted Lange. Produced by Lloyd J. Schwartz and Anthony Gruppuso at the Secret Rose Theatre, 11246 Magnolia Blvd., North Hollywood, CA 91601. There is municipal parking across the street. It is a very short walk from the Metro Line station. Performances March 21- April 27, 2014 on Fri. and Sat. at 8, Sun. at 7. Dark on April 20, Easter Sunday. There will be an added 1 p.m. performance on Sunday, April 13.
ADMISSION: $20. Students and seniors: $10.
RESERVATIONS: (323) 960-5774.
ONLINE TICKETING: www.Plays411.com/classic
Photo credit: Dina Morrone
Actual link:
http://www.broadwayworld.com/los-angeles/article/BWW-Reviews-World-Premiere-Comedy-CLASSIC-COUPLES-COUNSELING-Examines-the-Relationships-of-Shakespeares-Famous-Lovers-20140331#.U7Go941dVFb
THE LA BEAT:
"Classic Couples Counseling" Provides a Prescription for Fun and a Cure Via Laughter
Thomas Anthony Jones (l.), Constance Mellors, Heather Keller, Photo Courtesy of Dina Morrone
Imagine, if you will, all beloved Kings and commoners, Princes and plebeians from our collective childhoods on–in all their gleaming  poetic  glory–reduced to the problem deducing and appointment making capacity of your average run of the mill, urban adult-dysfunction, and you've got the Lloyd J. Schwartz penned, Ted Lange directed,  "Classic Couples Counseling".  
Near the corner of Lankershim and Magnolia, just slightly off the beaten path of the NOHO Arts district, sits a red gem of a small building aptly named The Secret Rose Theatre.  At roughly 99 seats wide, rather than deep, its panoramic feel belies its somewhat hidden and wallflowerish presence.  Fairly diagonally—well verydiagonally–across the street from Sitton's—a classic North Hollywood eatery, one might grab dinner or dessert after the performance; and decidedly across the street from the North Hollywood Greyhound station, one could bus it from anywhere in the continental U.S. (or at the very least, the Tri-State area) to see a performance mounted here.
Paul Gunning and Lindsey Santefort, Photo Courtesy of Anthony Gruppuso
It is opening night, March 21st, 2014, and the venue is packed and brimming with all manner of assumed venerable television, stage and film actors I just know I have seen before.  Even the box office representative who takes my name at the door looks familiar and assures me, he too, takes the stage just as regularly, if not more so, than he takes tickets!
As we settle in our seats, we are given all the basic introductory information:  Exit locations, allusions to keeping our cell phones at bay and any noise in general—candy wrappers in particular, "'Cause Lady MacBeth is in the play," we are warned "and you don't want to make noise!"
The theatre's black and red color scheme is one of my favorites and the red rose, in my opinion, one of the soil's most superlative floras.  This combination alone will set the tone for the evening in which I am about to partake…
So…what if Lady MacBeth had been diagnosed with OCD, manifest through excessive hand washing?  What if The Taming of the Shrew's Petruchio was discovered to have been bipolar in his treatment, entreaties and then mistreatment towards Kate?  What if Ophelia's prime complaint towards her mate, was that she just thought Hamlet was "wishy washy" (rather than Pig-headed?—Ha ha!) So explores "Classic Couples Counseling" in a rousing set of psychiatric appointments each dedicated to various and renowned Shakespearian couples' most noted dysfunctions.
Set in a modern day therapist's office, the play unfolds as our good doctor Patricia Cataldo, played aptly and familiarly, by the elegant Constance Mellors, helps guide each of our couples through the slings and arrows of their dysfunction deep within and during the winter of their discontent (and right after the first day of spring no less…)
Paul Gunning and Lindsay Ravage, Photo Courtesy of Dina Morrone
Cataldo will help steer Hamlet, played by a comedically Phil Hartmanesque Paul Gunning and Ophelia portrayed by the lovely and temperately forceful Lindsay Ravage, through not only Ophelia's frustration with Hamlet's "wishy washiness"  but Hamlet's irritation that, "She has to be pushed into everything! Frailty, thy name is woman!"  To top it all off, according to Ophelia, "He's got this real obsession with death, ghosts, skulls…his family's so screwed up…[and once when I wanted to talk about feelings] he said, "Get thee to a nunnery!"  Hamlet will eventually admit that he was mad at his mother, not Ophelia, and that he "didn't really mean it"!
Cataldo's primary concern regarding Romeo, played by a loveable, somewhat gangly,Elliott Schwartz and Juliet portrayed by an adorable, Minnie Mouse-voicedKimberly Woods, aside from the familial feuding, (plus the most emphatic ofswordplay, minus Richard Dawson and all his smarmy kisses) revolves around their ages—13!
Juliet-Things are different now…thirteen's the new twenty!…
Cataldo-How are you going to support her?
Romeo-(proudly) People can always use a good swordsman!
Elliot Schwartz and Kimberly Woods, Photo Courtesy of Dina Morrone
Desdemona, played by a no-nonsense, willful Heather Keller, having arrived at their appointment much earlier than Othello, portrayed by a smooth and swashbucklingThomas Anthony Jones, laments his lateness by confiding, "He's probably off with Iago doing God knows what.  Iago is such a kiss ass…I suspect [he] wants to be more than friends [with my husband]."  On top of it all, her father is a "bigot" who just thought she "was going through a phase" when she married the moor. Othello's lack of trust in his wife rears its inevitable head when he finally arrives only to prompt Desdemona to ask, "Are you going to bring up that damned handkerchief thing again?"
Kate and Petruchio, played respectively and comedically by Bill Sehres and Anne Leyden give as good as they get in their sundry and various jabs until Cataldo intervenes and suggests they do some healthy role reversal playing, but not before speculating that, based on our male protagonist's hot and cold behavior towards Kate, that he may be suffering from bipolar disorder as he is "so different than the man who courted [me]…"
Bill Sehres and Anne Leyden, Photo Courtesy of Dina Morrone
Oh and lest we forget…the MacBeths, played by the deliciously imposing Barbara Mallory along with the hilariously squinty-eyed and maritally earnest, Anthony Grupposo…well, let's just say you don't want to mess with the MacBeths—as the opening announcement hath decreed.  And hey, let's face it, Lady MacBeth has a certain obsession with cleansing the symptoms of her own messes to the tune of Dr. Cataldo's early onset OCD diagnosis.  Anyway, aside from all the uh…killings and uh…power plays that come with their newfound royalty, I would have to say that I agree that they are totally codependent otherwise!  (Dr. Cataldo eventually encourages MacBeth to take up a hobby, "…how 'bout fly fishing"?  But, I'm thinking, to no avail…  All I'm saying…)
I thought this story would stop right here, i.e. as individual scenes wherein each of the couples has their respective heads examined.  But oh no!  Dr. Cataldo inspires a group therapy session with all five nearly divorce-bound duos to delightful drollness in discussion and debate!
Barbara Mallory and Anthony Gruppuso, Photo Courtesy of Dina Morrone
From here, the plot thickens and involves a man in a dark trench coat and sunglasses rapping at Cataldo's portal as though a glitch has been detected in The Matrix, a series of mysterious and distressing phone calls…and a stuffed monkey named "Sylvia"!
Will Lady MacBeth wash her hands of therapy or simply wash her hands of washing her hands all together?  Will Kate and Petruchio realize the error of their ways and the granted for which they take each other in life's grand comedy?  Will Hamlet continue his obsession with ghosts and skulls on this earthly plane of existence or elsewhere…and ifelsewhere might that obsession be rendered moot anyway?
For answers to these and all other pertinent questions,  please visit:
www.Plays411.com/classic to order tickets or call:  (323) 960-5774
"Classic Couples Counseling" runs through April 27th 2014 at the Secret Rose Theatre, 11246 Magnolia Blvd., North Hollywood, CA, 91601.  There is municipal parking across the street and it is a very short walk from the North Hollywood Metro station.
Show times encompass:   Fridays and Saturdays at 8 pm and Sundays at 7 pm.  (Dark on April 20th, Easter Sunday.) There will be an added performance at 1 pm on Sunday April 13th.
Actual Link:
http://thelosangelesbeat.com/2014/03/classic-couples-counseling-provides-a-prescription-for-fun-and-a-cure-via-laughter/
Here's a link to an interview with Ted Lange, the director for Classic Couples Counseling. I play opposite him in this comedic play.  http://highlighthollywood.com/2014/01/ted-lange-directs-world-premiere-comedy-classic-couples-counseling-at-secret-rose-theatre-noho-highlight-hollywood-news/
Here's an article about a commercial I shot for Marshfield Clinic. It talks about their 2014 commercial campaign launch which includes my commercial. Motorcycle, the name of my commercial will be airing during the SUPER BOWL in the Mid-West. Yay! Here's the link to the article: http://e-pulse.info/Archives/2013-12-19/01default2013-12-19.html

Heather is currently in pre-production for, Classic Couples Counseling, a new play by Lloyd Schwartz. Directed by Ted Lange.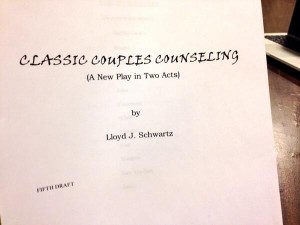 The Circus is Coming to Town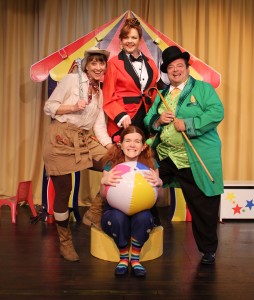 Keller,Wahla, Gruppuso, Leyden. Photo by David P. Johnson
No performers work harder than those who create children's theater. And no company does children's theater more creatively than Los Angeles-based Storybook Theatre.
Now, through July 6, Storybook Theatre is presenting an original and overtly optimistic production of the hour-long children's musical, The Circus is Coming to Town, with book and lyrics by Lloyd Schwartz and music by Brian Feinstein.
Circus is flexibly directed by Elliot Kevin Schwartz, who leaves plenty of room for audience participation and interaction, as well as ample space for improvisation and spontaneity, makingCircus an exercise in imagination and theatrical physicality, and not just for the actors. Offering six song-and-dance numbers (choreography by Paul Denniston) – including "Hooray for the Circus," "Clowning Around," and "Why Not Believe?" – Circus, as much as anything, showcases consummate triple-threat thespians (Anne Leyden as Ringmaster; Melanie Wahla as Clown; Heather Keller as Wild Animal Trainer; and Anthony Grupusso as Mr. Grimble, all energetic and extraordinary in their roles), who, in turn, make every effort to showcase the children in the audience.
Given the loosely-structured plot mechanisms of the script, the improvisational and motivational skills of the cast, and the array of childhood innocence and playfulness on display here, families from all corners of So Cal ought to consider attending The Circus is Coming to Town. It may be, if not the greatest show on earth, at least among the most enjoyable outings a family can experience on a Saturday afternoon.
The Circus is Coming to Town continues through July 6. The Theater is located at Theatre West, 3333 Cahuenga Boulevard West, Los Angeles. Show times are at 1 p.m. Saturdays. Storybook Theatre is available for school fieldtrips and for private birthday parties as well.  For reservations and information, call (818)761-2203. For more details, visit www.theatrewest.org.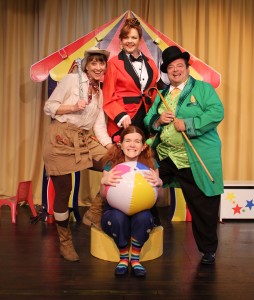 Storybook Theatre has been at it for 25 years now, entertaining kids 3-9 with interactive musicals and, if this show is any example, it's the adults who get the real treat.  Just sitting among wonder-eyed children and see their reactions, their amazement, their absorption, their innocent pleasure, is not to be missed.  It's truly magical storytelling because, at this Circus, the children are the show.
            The challenge is how to create a circus in a tiny box of a theatre and – wonder of wonders – they do it.  As the children eagerly rise up, volunteer, rush onstage to join the circus, the acrobats, lions, tigers, giraffes, bears, monkeys, all come to life.  For comic relief there's a shifty soda-man pushing spinach-ade (yech!), and a spoiler in the crowd who gets her comeuppance, but in the end all learn to celebrate life.
            Actors Anne Leyden (Ringmaster), Melanie Wahla (clown), and Heather Keller (animal tamer), are charmers, and understudy Lukas Bailey is fabulous as nasty Mr. Grimble and nastier Ms. Notfun.  Delightful book, lyrics and direction are by Lloyd J. Schwartz, with music by Brian Feinstein.  Produced by Barbara Mallory with choreography by Paul Denniston.
At Theatre West, 3333 Cahuenga Blvd. Los Angeles, Saturdays 1 p.m. through July 6.  Information: (818) 761-2203 or 
www.theatrewest.org
Review in Not Born Yesterday, May 2013 issue
THE CIRCUS IS COMING TO TOWN review 
Life in L.A.
      The Circus is Coming to Town
Kristi Tisor Ambriz
Hooray for the circus!  The words still ring in my head as I remember the energy and song from the Theatre West production The Circus is Coming to Town presented by their Storybook Theatre, a theater company geared for children between the ages of 3 and 9.
For over 25 years, Storybook Theatre has been educating children through the medium of theater, adhering to the standards of the California Visual and Performing Arts (VAPA).  The troupe has won numerous awards, gained widespread recognition and is known both locally and nationally to be a creative means toward many educational milestones.
The Circus is Coming to Town joins Theatre West alumni Anne Leyden (Ringmaster), Melanie Wahla (Clown), Heather Keller (Wild Animal Tamer) and Anthony Grupusso (Mr. Grimble), and includes a very special appearance by the iconic Georgette Spelvin (wink-wink), who brings the ruthless antagonist of the show, Ms. Ima Notfun.
The ensemble is fully engaging as the actors bring the stage to life for children new to this form of entertainment not held within the confines of a silver screen.  However, indisputably the real stars of the show are the young audience members who are skillfully brought into the fun as the Ringmaster, Clown and Wild Animal Tamer draw them in to facilitate their need to have a real circus.  For in order to have a real circus, the circus must include magic act assistants, wild animals and, in the spirit of P.T. Barnum himself, "A sucker born every minute," when Mr. Grimble sells Spinach Ade (YUCK!).  But even with the circus coming together, will it be enough to hold back the evil scheme of Ms. Ima Notfun?
It is hard to tell who enjoys the show more:  the children who are invited to fully let loose their imaginations and even join the cast on stage from time to time, or the parents left in their seats to watch their young thespians get bitten by the theater bug?  Or is it the theater reviewer who gets to watch it all?
Producer and Co-Director Barbara Mallory Schwartz tells LifeinLA that it is their concerted effort, during every Storybook Theatre performance, to offer each child in the audience the opportunity to participate and join the cast.  Storybook Theatre not only wishes to demystify the stage, but strives to help children gain confidence and expression through theatrical arts while educating them on pillars of character and good sense.  And that education runs far more deeply as research proves the dual development of the right and left sides of the brain that occurs when a child absorbs the discipline and habit of improvisational creativity.
Theatre West plays host to local schools, offering performances for students that expose them to the theater—a thing many children are never given the opportunity to experience.  The troupe will even travel to schools within a 30-mile radius of the theater for on-campus performances.
But to this mother of an elementary-aged child, the offer that was most attractive was one Barbara Mallory Schwartz explained—Theatre West does birthday parties!  For only $10 per ticket, your child and birthday party guests can attend a Storybook Theatre performance.  The children will be entertained (for about an hour-long show) and their energy will have an outlet as they're invited to rise to their feet, move their bodies, join the stage or dance in the aisles, making the birthday party a guaranteed success.  For only $50 more, you can rent the stage for a picnic after the final bow (bringing in your own food and drink) and the cast will even join in on the fun.
This is a wholesome, safe place for families and a definite Los Angeles treasure.
For more information on The Circus is Coming to Town go tohttps://theatrewest.secure.force.com/ticket#details_a0IG000000IWdiyMAD.  For field trip and/or birthday party reservations contact Barbara Mallory Schwartz at 818.761.2203.
Theatre West is located at 3333 Cahuenga Blvd. West, Los Angeles, CA 90068.  Free parking is available across the street from the theater.
MARCH 22, 2013
PRESS RELEASE:
Welcome Back 29ers
Debuts at Hollywood's Hayworth Theater/Second Stage on April  5th.
Sam Henry Kass's outrageous new comedy Welcome Back 29ers will open at the Hayworth Theater's Second Stage on Apriil 5.  The New York native's play is set in a Brooklyn bar and explores a neighborhood reunion that grapples with religion, murder, challenging relationships and race amidst the growing gentrification of their area.  With the influx of young hipsters, the face of the neighborhood is changing and the residents are sentimental about a lost era
The play features a seasoned ensemble cast of actors.  Performances will take place at the Hayworth Theater/Second Stage located at 643 Corandelet St. in Los Angeles  Performances will take place on Fridays & Saturdays  at 8 pm. For reservations, call310-393-0985.
Kass is a critically acclaimed playwright whose work includes the long-running off-Broadway productions of "Siddown!!!: Conversations with the Mob" and "Lusting After Pipino's Wife."  He also wrote and directed the cult classic film, "The Search for One-Eye Jimmy" which starred Samuel L. Jackson, John Turturro and Steve Buscemi.   Kass also co-created, wrote and directed the hit web series, "Star-vin" which starred David Faustino, Corin Nemec and Ed O'Neill.  In addition, Kass was Executive Consultant on "SEINFELD."
# # #
July 18, 2011
The webseries I'm in won BEST WEBSERIES from a short competition it was entered in! Go THE REEL HOUSEWIVES OF THEATRE WEST!
June 21, 2011
DAILY VARIETY Review

The Socialization of Ruthie Shapiro was a memory play in which I played a fiery awkward pre-teen from Texas.
The Socialization of Ruthie Shapiro
(Theater West, Los Angeles; 168 seats; $25 top)
By BOB VERINI
'The Socialization of Ruthie Shapiro'
A Theater West presentation of a play in two acts by Barbara Nell Beery. Directed by Susan Morgenstern.
Ruthie – Claire Partin Nadine – Constance Mellors Loretta – Heather Keller Ronnie – Nick McDowTwelve-year-old Ruthie (Claire Partin, rather too halting of speech) is drawn in the Frankie Addams/"Member of the Wedding" vein of lonely dreamers seeking "the we of me." Her "we" materializes in the form of Texas transplant Loretta (an amusingly gawky Heather Keller), though older brother Ronnie (Nick McDow) warns against palling around with anyone weird if Ruthie wants to fit in.
There is one scene of shocking reality of which one wishes the play boasted more: a casually drawled anti-Semitic epithet leads our heroine to hide her Judaism from her new friend. (Not easy for a Shapiro to do, as she herself admits.) Eventually Ruthie discovers the road to junior high popularity is paved with cruelty, though many who got along without throwing best buddies under the bus would beg to differ.
Beery brings in the cultural paradoxes of utterly non-observant Jews, as well as young girls' easily misinterpreted physical intimacy, without ever truly defining her impenetrable protagonist. Grown-up Ruth says 1967-68 taught her to build walls to keep others out, including her parents, yet Constance Mellors' bland mother sends few signals as to how we're to view this central relationship.
It was probably unwise to have the adult Ruth spell out her ultimate fate in an opening monologue, thus reducing our imaginative participation. It was certainly an error for helmer Susan Morgenstern not to insist that Ronnie be given a few filial bonding moments, so as to insert a little tenderness and allow McDow to exhibit something other than unbridled hysteria.
Sets, Jeff Rack; lighting, Yancey Dunham; sound, Matt Hoffman; stage manager, Roger Cruz. Opened, reviewed June 4, 2010. Runs through July 11. Running time: 1 HOUR, 50 MIN.
January 24, 2008
LA TIMES PROMO FOR BUMP JANUARY 24TH 2007
February 05, 2007
Dancing at Lughnasa is getting WONDERFUL REVIEWS. Visit my Reviews section to read up!!!
Show runs thru March 17th , St. Patty's Day!!!!!!
February 05, 2007
THE TOLUCAN TIMES
By Pat Taylor
Dancing at Lughnasa
Kathie Barnes, Jeanine Anderson, Heather Keller, Mary Garripoli and Mary Linda Phillips in "Dancing at Lughnasa."
LOS ANGELES – This is the third in a series of collaborative efforts between Theatre West and Charlie Mounts, "Chestnuts," offering great play revivals, is an in depth Irish family drama. Written by Irish playwright, Brian Friel, it first ran in Ireland in 1990, and then on Broadway in 1992, winning a Tony award. It tells a lovely, though overly lengthy heartwarming story. It is 1936 in Ballybeg, Ireland, at the cottage of the impoverished Mundy family. (Stunning set design by Jeff Rack.) Five adult sisters, one offspring, and their sickly brother (a priest) struggle lovingly through life's challenges, both emotionally and monetarily. A devoted family, each with their own quirks and dreams, it is familial love and support, that gets them through these turbulent times. The story is told/narrated in retrospect, by Christina's out of wedlock son, Michael (a strong and focused Donald Moore). Directed with heartfelt passion by John Gallogly, the cast gives dedicated depictions (though at times some of the Irish accents did a "jig" of their own.) Especially effective were the cast's freeze frame moments during Michael's narratives. Solid standout performances by Mary Linda Phillips, as Kate, the eldest sister, a stern but caring school teacher; Heather Keller, as Christina, the lonely unwed mother; and Walter Beery as Father Jack, their kooky, ailing brother. The rest of this fine cast includes: Yancey Dunham as Gerry, Michael's irresponsible absentee Father, Mary Garripoli as the spirited Maggie, Jeanine Anderson (Rose) and Kathie Barnes (Agnes) who eventually flee the family together, to explore the outside world. A technically appealing production, thanks to: Russell Boast (lighting), Charlie Mount (sound) and choreography by Maire Clerkin. A meaningful slice of life Irish journey, which many will find infectiously involving. Running through March 11 at Theatre West, 3333 Cahuenga Blvd. West in Los Angeles. For seats/times call (323) 851-7977.http://www.tolucantimes.com/theatre_reviews.html
Backstage West
DANCING AT LUGHNASA
Reviewed by Dink O'Neal
Billed as an offering from this company's Chestnuts wing, Brian Friel's Dancing at Lughnasa — which debuted in 1990 — earns its distinction as an Irish memory play more from charm than age. Following the tribulations of the Mundy family in the fictional town of Ballybeg in 1936, this is an engaging piece well suited to this gifted ensemble.
With a wee tip of the hat to The Glass Menagerie, Donald Moore narrates a flashback-driven script as Michael, the illegitimate son of Christina Mundy and snake-charming local ladies man Gerry Evans. The story line of this couple (played with lovely chemistry by Heather Keller and Yancey Dunham) provides the greatest source of tension within the close-knit clan. Meanwhile, eldest sister Kate (played with appropriate rigidity by Mary Linda Phillips) grapples with her self-imposed sentence as surrogate mother and primary financial provider to her siblings.
A touchingly bittersweet alternative to the play's tension and angst comes in the performances of Jeanine Anderson and Kathie Barnes as sisters Rose and Agnes. The girls' mutually concealed dreams of romance never translate into reality, despite their best intentions as worker bees to sister Kate's queen. With subtle performances Anderson and Barnes fully convey the resulting weariness of their character's lives.
Fortunately, playwright Friel had the good sense had the good sense to inject a fair amount of much-needed humor. Jack, elder brother to the quintet of sisters, is a priest whose decades of African missionary work have left him bereft of his mental faculties. Through the talented portrayal offered by Walter Beery, Jack struggles for word choices, all the while marrying his Catholicism with pagan rituals, a practice that galls Kate to no end. For consistent comic timing, one need look no further than Mary Garripoli's interpretation of Maggie Mundy, the family peacemaker. Whether exhibiting a liltingly beautiful singing voice or an impish disposition, Garripoli steals virtually every scene she inhabits.
Director John Gallogly maintains an emotion-filled yet never maudlin atmosphere. Although Russell Boast's lighting was spotty at the performance reviewed, scenic designer Jeff Rack's cottage-like dwelling is detailed and appealing.http://www.backstage.com/bso/news_reviews/la/review_display.jsp?vnu_content_id=1003540871
Accessibly Live Off-LineDANCING AT LUGHNASA
Reviewed By Rich Borowy
Brain Friel's DANCING AT LUGHNASA, an Irish tale of five sisters living in County Donegal Ireland, performs at Theatre West in Hollywood for a limited run. It is the tale of the Mundy clan consisting of a band of sisters;Christina (Heather Keller), Maggie (Mary Garripoli), Agnes (Kathie Barnes), Rose (Jeanine Anderson), and Kate (Mary Linda Phillips) a close-knit group living in rural Ballybeg in the middle 1930's. They don't have a lot within their humble homestead–just a "wireless" radio they affectionately call 'Marconi', after the inventor of the device, and one other. Each sister has her own personality and attitude which gives them their sense of family bonding. The only men in their lives do not come from husbands-each one has yet to take a spouse, is brother Jack (Walter Berry) who became a Priest serving his time in Africa as a missionary. But he is too feeble to continue his calling, so he has returned back to his motherland to peacefully expire. The second man to enter the sister's lives is Christina's husband Gerry (Yancey Dunham) who left the family years before, only to announce his part in being a freedom fighter in the Spanish civil war. This entire story of the Mundy's are told by Christina's son Michael (Donald Moore) who looks back at his family's life sharing the joy and tears of a family he would never trade for all of the doubloons in the world!
This is one of those stage plays that only seem to get better at each performance. The entire cast of players show their inner joy for their characters in a very realistic sense. Jack Rack's set design of the rural homestead enhances this tale of Irish family and bonding. John Gallogly, himself a man of Irish decent, directs this production with passion that shows throughout. And the 'dancing' part? The title of this story refers to a old Celtic festival called Lughnasa that dates back to the pagan days of old!
It appears that any tale or story about Ireland or takes place in this green country is charming, witty, and delightful. DANCING AT LUGHNASA is no exception to this rule! It is pleasant production to see, and a fine place to stay for a while. Even if one isn't Irish per se, after experiencing this play, one wishes that they were!
DANCING AT LUGHNASA, presented by Chestnuts Productions and performs at Theatre West, 3333 Cahuenga Blvd, Hollywood, (Universal City/North Hollywood area) until March 11th. Showtimes are Friday and Saturday nights @ 8:00 PM, and Sunday afternoons @ 2:00 PM. Reservations and information, call (323) 851-7977. Visit the web site at http://www.theatrewest.org
ReviewPlays.comDANCING AT LUGHNASA
Reviewed by Carol Kaufman Segal
Dancing at Lughnasa by Irish Playwright Brian Friel was originally produced in Ireland in 1990. In 1992 it was presented on Broadway, winning a Tony Award for best drama. It is the third production of Chestnuts, a new wing of Theatre West and opened there on January 27th.
Dancing At Lughnasa is based on Friel¹s fictionalized memory of his own childhood and narrated by his would-be character, Michael (Donald Moore). It relates the story of the five unmarried Mundy sisters in 1936 Ireland and the Industrial Revolution that will eventually impact the entire family. The sisters live together in a humble home two miles outside of the village of Ballybeg, County Donegal, Ireland. Maggie, the most upbeat of the sisters, played with gusto by Mary Garripoli, is the one who takes care of the household chores. Kate, a schoolteacher, is the "proper" and most religious of the sisters and is performed with grace by Mary Linda Phillips. Christina is Michael¹s mother, the sister who has brought disgrace upon the family by having a child out of wedlock with Gerry Evans (Yancy Dunham). Christina (Heather Keller) is sometimes depressed, but becomes buoyant and bubbly when Gerry comes to town to see her. Agnes (Kathie Barnes) and Rose (Jeanine Anderson) are the most inseparable of the sisters, both knitting socks to earn their living. Rose is somewhat slow, while Agnes tries to protect her. Jack Mundy (Walter Beery) is the only brother, a missionary priest who has spent the past 25 years in Uganda, coming home with an illness and not expected to live. However, with the help of his family, he returns to good health. Michael relates the story of his family during those turbulent years, the effect of the Industrial Revolution causing them to lose their jobs, and eventually, what happens to each of the sisters and their brother.
Dancing At Lughnasa is a lengthy play in two acts, but worth the approximately 2-1/2 hours it takes to relate the story of the Mundy family. The production grew out of the Monday Night Acting Workshop, growing bit by bit until, two years after its beginning, it became the beautiful play that it is, produced by Charlie Mount and directed by John Gallogly. The actors play their roles brilliantly, with impeccable Irish brogues. The set design by Jeff Rack that features the kitchen and garden of the Mundy home is warm and homey. It will play Fridays and Saturdays at 8 pm, Sundays at 2 pm, through March 11, 2007 at Theatre West, 333 Cahuenga Blvd. West, in Hollywood. For reservations, call (33) 851-7977 or go online at www.theatrewest.org . http://www.reviewplays.com/DancLugh-CKS.htm
ReviewPlays.comDANCING AT LUGHNASA
Reviewed by Robert Axelrod
DANCING AT LUGHNASA is a memory play whose story is told by middle aged Michael Mundy (Donald Moore). It¹s the story of his mother Christina (Heather Keller), and her sisters Maggie, Agnes, Rose, and Kate, and one uncle Jack, all living under the same roof in what must be a roomy cottage two miles outside of the village of Ballybeg, County Donegal, Ireland. All are unmarried (Michael is indeed illegitimate) and seem to be happy living together, despite being impoverished. Uncle Jack (Walter Beery) is a missionary priest recovering his faculties lost via an unnamed illness (probably a stroke). Sister Kate (Mary Linda Phillips) is a schoolteacher and the sternest of the lot, while sister Rose (Jeanine Anderson) is the most childlike. Sister Maggie (Mary Garripoli) is the jolliest. Christina is just recovering from a depression she suffered when Michael¹s father Gerry left.
Michael brings us back to 1936 at age nine, when changes are approaching that will affect the lives of the family. The Industrial Revolution is finally about to hit their little corner of the world, and WW II is just a few years away. The way the sisters cope with it all is to entertain each other by dancing to the radio they keep on the bureau. Lughnasa refers to a Celtic festival with its roots in pagan antiquity. The sisters survive on Kate¹s teaching salary and what they can take in sewing. They follow the on again off again romance between sister Christina and Michael¹s father Gerry Evans (Yancey Durham), who¹s just come back after a thirteen month absence to court Christina and ask her to marry him. They nurture Uncle Jack, hoping he will return to preaching Sunday sermons. They survive as merrily as their own individual psyches will allow them to. They will not allow themselves the joy of attending the yearly Harvest Dance as they used to when they were younger. It seems that age has wrought worry for some unsaid arbitrary reason. Therein lies the sisters¹ tragedy and future, which according to Michael¹s final monologue, is somewhat bleak.
Brian Friel is the author of this play, which won a Tony. It was made into a movie starring Meryl Streep. One can see why on both counts. The play is rich in texture and language. The Theatre West cast handles this language with a fair amount of deftness, enough to carry this production into a healthy run. The direction, by Theatre West¹s Executive Director John Gallogly, is firm and sure. This is not a plot play, it¹s a character play, and each character is sharply etched and uniquely portrayed. I give this production a firm THREE AXELS and recommend a viewing.. http://www.reviewplays.com/dancingrobax.htm
eyespyLA.comDANCING AT LUGHNASA
Reviewed by Sheelagh O'Connor
Last night was the opening night of this fascinating play at Theater West in West Universal City. The director, John Gallogly, writes in the program notes: "Thank you for taking the passage back across the sea to examine the place we all left to arrive where we are, and in looking into our past, perhaps recognize a bit of what we remain".
With many thanks to the performance of Walter Beery as Jack Mundy, I felt challenged to the true depth of this play. Here was the brother of these five Irish sisters who left Ballybeg, to go live in Africa for many years. He spoke Swahili the whole time he was there, he learned and lived the customs of the African people, and experienced the full joys of a less repressed culture. He reminisces about the ceremonies, he forgets English words but relives the experiences. He talks of his trusted manservant he left behind, who enjoyed dressing up in his clothes, amongst many other duties performed!
However, his sisters are living in the memory and glory of his role as a priest and how important that is to their status in this small cold damp Irish town in 1936. They want him to say mass, to return to their way of life, but he has gone past those beliefs. They think he is dementing, he is not in tune with their small town existence.
The radio in the house is such a strong source of life and energy that they give it a name, "The Marconi". This unreliable box brings music and joy to the house. The sisters dance to the music, a grim life is left behind, but there is danger for repressed religious souls in this joy. It can lead to sex, ecstasy, and even abandonment, as we hear of the events of Lughnasa. Where do the people of Ireland find joy in this grim poverty stricken land of beauty and sorrow? Not in the church, but rather at a pagan festival, the festival of Lughnasa.
Mary Garripoli played the role of Maggie Mundy, full of "devilment", fun, laughter, telling jokes and riddles and teasing her young "out of wedlock" nephew. Her presence onstage was electric, every gesture or look conveyed more than words can tell. There is a fountain of pure joy bursting out of this character, despite her disappointments in life.
All of the characters experienced disappointment and shame. A very beautiful Mary Linda Phillips played the part of Kate Mundy, the eldest sister, critical and joyless in sharp contrast to her sister Maggie. There is tragedy in the memory and story telling of all of these lives that ended up so badly, the sisters who ran off to London, the priest brother who dies only a year after coming home to Ireland, the losing of jobs, the out of wedlock shame, the young father who loves, but does not know how to handle life at all.
I would love to see this play again, without the Irish accents. Are they really necessary? They were a distraction to me. There are so many layers to this play, it seems a pity to distract us with phoney Irish accents. However, it was still a powerful and delightful experience for me.